UPDATE ON AUG 18, 011:35 PM IST
Gulzar is not only known for giving scripts, poetry, dialogues and songs for many fine films with his pen for many decades, but is also known for breaking the boundaries of borders with his art. Gulzar, the owner of the romantic voice, was born on August 18, 1936 in Dina village of Jhelum district of Pakistan. His childhood name was Sampooran Singh Kalra. Gulzar started weaving such a taunt of alphabets close to Urdu language, whose caravan continues even today.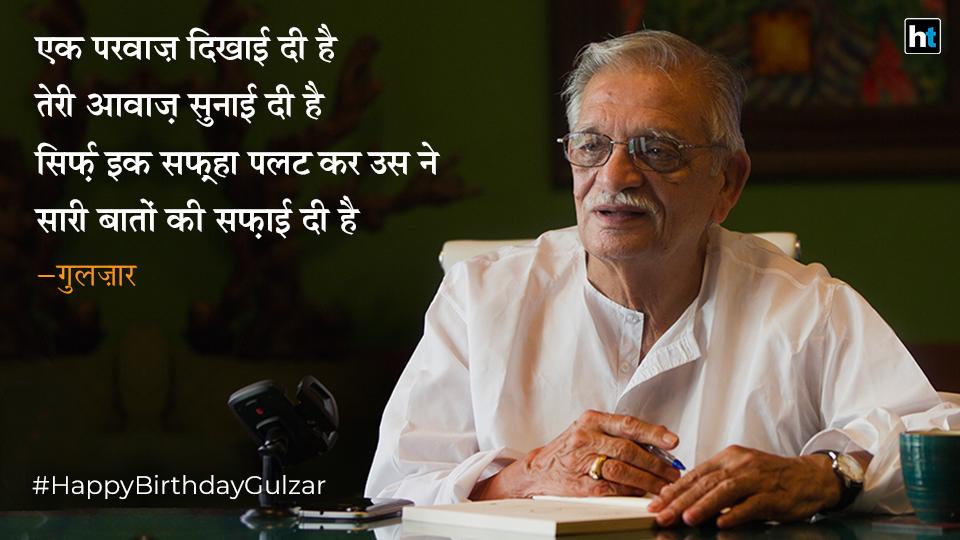 Gulzar has written the song of Har Mood, Har Mood. Be it the fun-filled 'Chappa Chappa Charkha Chale...' or a romantic song like 'Dil Se Re...', Gulzar never seems to be in a mood swing. 'Kajrare Kajrare...', 'Chand recommends us...', 'Dil toh baby hai ji' and then all of a sudden Gulzar was having fun and his pen sang the typical fun-filled song 'Bidi Jalile Jigar Se Piya'. Have created Gulzar has mixed every color of life in his songs.
worked as a mechanic in a garage

Gulzar's mother had passed away in childhood. After partition, his entire family settled in Amritsar and Gulzar after studying in Delhi moved to Mumbai for livelihood. Initially, he started working as a mechanic in a garage and used to write poems in his spare time. While working in the garage, Gulzar started looking for work in the film industry.Literary lover Gulzar met film director Bimal Roy one day and from here the process of his songs, dialogues and dialogues also went ahead. They mainly write in Hindustani language (Hindi-Urdu) and Punjabi language. By the way, he also has a good hold on many dialects, in which he writes in Braj Bhasha, Khari Boli, Haryanvi and Marwari.
Gulzar and Rakhi got married in 1973

Gulzar and Rakhi got married in 1973, but both separated after a year of marriage. Meanwhile, daughter Meghna was also born. There was a lot of controversy between the two regarding Rakhi's film career, but even after separating, both of them did not get divorced. Once Gulzar said – Even today when I want to eat fish made by Rakhi, I gift her a saree in bribe. I have always been gifting them the best saris and still do.

Directed more than 20 films Gulzar has directed more than 20 films in his career. These include films like 'Parichay', 'Aandhi', 'Izaat', 'Maachis', 'Lekin', 'Angoor', 'Namkeen'.