Update OnAug 7, 12:30 PM IST
Sonu Sood is very active on social media. Recently the actor was seen selling shoes and slippers. He has shared this video of his on Instagram and his fans are very fond of the video.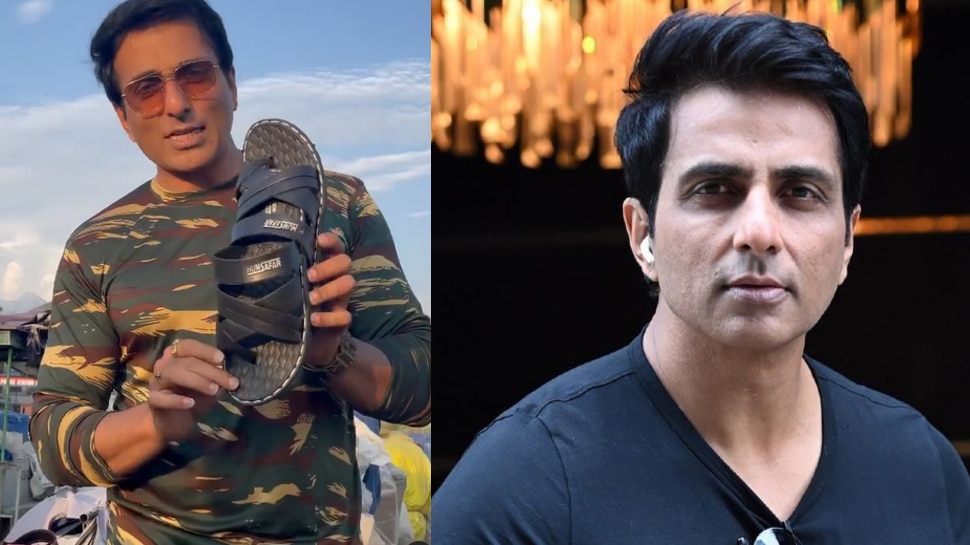 New Delhi: Bollywood actor Sonu Sood has emerged as the messiah of the poor in lockdown. The actor has applause everywhere. Meanwhile, Sonu does not miss to entertain his fans. Recently Sonu Sood was seen selling slippers. This video of him is going viral on social media.
video of sonu sood
During the Corona epidemic, Sonu Sood has helped the needy so much that they have even started calling him the Messiah. Sonu Sood, who is also very active on social media, has once again shared a video of himself with a shopkeeper selling slippers on a footpath from Srinagar, which is being liked by his fans.
https://www.instagram.com/sonu_sood/?utm_source=ig_embed&ig_rid=92622b03-3a11-4560-92d4-ae00a7c8d2d3
Sonu is selling slippers
Sonu Sood, who is in Srinagar these days regarding the revised film policy of the Jammu and Kashmir administration, has shared a video from the Batmaloo market here. Here he has talked to a shopkeeper who sells shoes and slippers named Shamim Khan. In this, Shamim Khan tells them that the cost of slippers for children is Rs 50 and the cost of slippers for adults is Rs 120.Sonu Sood asks to give 120 slippers for 50 rupees, then Shamim Khan refuses and says that this other sandal of 50 rupees is available. When Sonu Sood talks about giving a discount, the shopkeepers agree. After this Sonu Sood says that if you also come to Shamim Bhai's shop and take my name, then they will give you 20% discount on the purchase.
Sonu's work
This video of Sonu Sood Video has got millions of views so far. Fans are showering a lot of love on this video by making a heart emoji. Along with this, he is also praising Sonu Sood. A fan has written that you are great saab ji!At the same time, many fans have described his work as very good. Talking about Sonu Sood's workfront, he was last seen in the film 'Simmba'. Sonu Sood is going to do the film 'Kisan'. E Niwas will direct this film. Apart from this film, he has many films in the pipeline.