Update on Aug 5, 1: 30 pm ist
The re-increasing cases of Coronavirus have become a matter of concern for the whole world. Meanwhile, Saudi Arabia has announced to deal strictly with those who violate the travel rules. The government will impose such a heavy fine on the guilty that only the back of the payer is broken.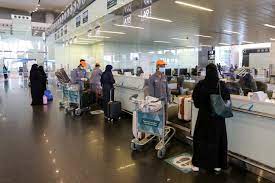 Riyadh: Saudi Arabia has become very strict about the violation of rules amid the increasing fear of Coronavirus. The government has given a clear warning that heavy fines will be imposed on those who violate the travel restrictions.Earlier, the government had announced a 3-year travel ban on those who did not follow the rules. Actually, Saudi is worried about the increasing cases in other countries. He feels that people traveling abroad can spread corona.
Prosecution Office issued a warning
According to the report of 'Arab News', the Saudi Public Prosecution Office has warned that it will impose fines on travelers who violate the travel restrictions.
The amount of fine has been kept so much that one may feel dizzy just after hearing it. It has been said in the government order that a fine of $ 133,323 i.e. about Rs 1 crore will have to be paid for traveling to countries again hit by the corona epidemic.
People related to transportation are also in the realm
It has been told in the report that a similar fine will also be imposed on the transport operators and owners. In a tweet in this regard on Sunday, the officials said that serious punitive measures would be taken against those passengers,
Those who must have traveled to any country included in Saudi Arabia's 'Corona Travel Ban List'. The government says that this decision has been taken keeping in mind the increasing cases of corona.