UPDATE ON AUG 19, 03:36 PM IST
Former UK Health Minister Matt Hancock, who came into the discussion about an affair with his colleague, was harassed by women in the London Metro for a long time. Someone grabbed his hand and pulled it, someone took away his cap and the former minister could do nothing but smile.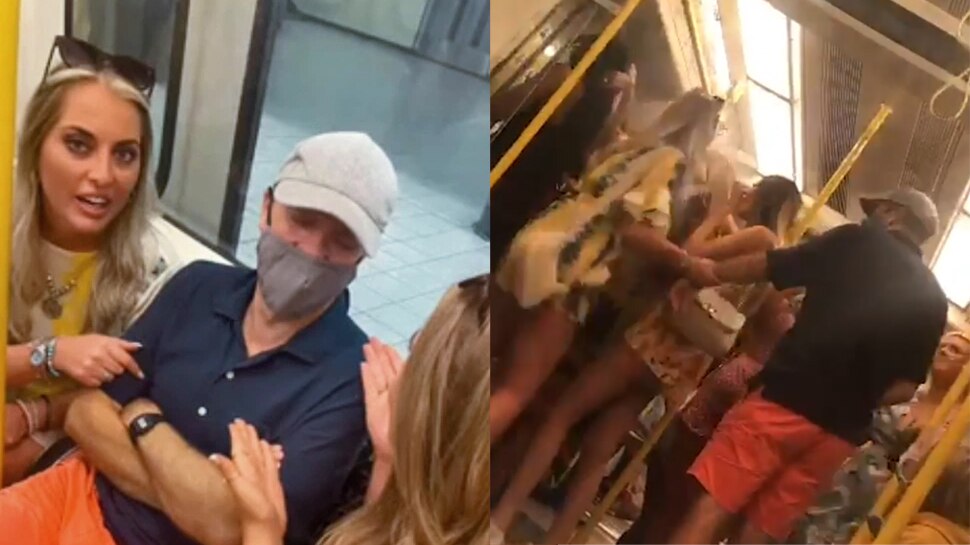 London: Britain's Health Minister Matt Hancock, who resigned after the secret affair became common, was surrounded by some women in the London Metro. For a long time, the women kept on talking with the former minister, posing for photographs. Not only this, when the metro stopped at a station, an attempt was also made to drag Hancock out. Meanwhile, a woman took away his cap with her.
Recognized despite the mask
According to the news published in 'The Sun', former British minister Matt Hancock was traveling by London Metro on Saturday. He wore shorts and a T-shirt and was wearing a cap along with a mask. Despite this, the women recognized him. Hancock was surrounded by women for a long time. In between, he also got angry with his antics, but did not say much.

Woman swinging with joy When Matt Hancock was sitting in the seat talking to a woman, 19-year-old Georgia Lewis, who was on the subway, snatched his cap. After this she started roaming here in happiness, seeing this other women started clapping. However, after some effort, he got his cap and stood near the door of the train.
'He has to come himself for the cap'
Seeing the former minister, one of the excited women tried to pull him out as soon as he stopped at the subway station, but Matt Hancock let go of his hand. But Georgia Louise again took her hat with her as she went. Lewis said,
Or. But Georgia Louise again took her hat with her as she went. Lewis said, 'Matt Hancock's image has become that of 'Ladies Man'. When we saw him in the metro, he jumped with joy. We posed for photos with him and even brought his cap. Now this is what he wants his hat, so he will have to come himself.
Have an affair with Coladangelo

Let us tell you that 42-year-old Hancock was caught on camera kissing with his colleague Gina Coladangelo. The incident took place outside his office at the Health Department's headquarters in London. Gina Oliver, 43, is director of communications at Bonas, a fashion and lifestyle store.
He is also a director and major shareholder in the lobbying firm Luther Pendragon. Matt Hancock appointed him as a consultant to his department last year. Hancock resigned from his post after the revelation of their secret affair.