Tue, 03 Aug 2021 16: 25 pm ist
Jhansi.Heavy rain since the intervening night of Sunday-Monday rained as a trouble on Monday. Not only in the city, but also in the tehsil, block, village and countryside, the daily routine of the people changed due to rain. Many shops and houses of Baruasagar were flooded.Houses were flooded in Deori locality of Ranipur. The low-lying areas of Mauranipur became watery. Apart from this, the power system was disrupted due to heavy rains in the neighboring villages and villages including Sakrar, Gursarai, Bangra, Todifatehpur, Monthar, Samthar, Chirgaon.
overflowing drains

Mauranipur. Due to the torrential rain, the Sukhnai river, which came out of the city, returned to its glory. At the same time, the drain in Parwaripura was overflowing. Due to which many houses were flooded. Not only this, there was a huge amount of water logging in Nai Basti, Dubey's Chowk, Parmat Square.People faced problems due to waterlogging in front of the station. Several inches of water remained in the vegetable market. Electricity was disrupted in most areas. Due to which people got discharged till mobile.
beneficial to farms

Ranipur. Due to heavy rain, the town Ranipur became water-water. The Sukhnai river, which had been dry for a long time, also came out. Due to which a large number of people came close to it. Took a selfie On the other hand, areas including Mohalla Ganj, Ladganj, Naibasti, Deori were flooded with several inches of water. In Mohalla Deori, water entered many houses due to overflowing drains.Due to which the people suffered a lot. On the other hand, the rains made the rural areas worse. Farmers Rameshchandra, Balwant Singh, Asharam, Swami Prasad told that it is a boon especially for groundnut crop. There is a loss for those fields where water stagnates. The same water is not suitable for the crop of urd.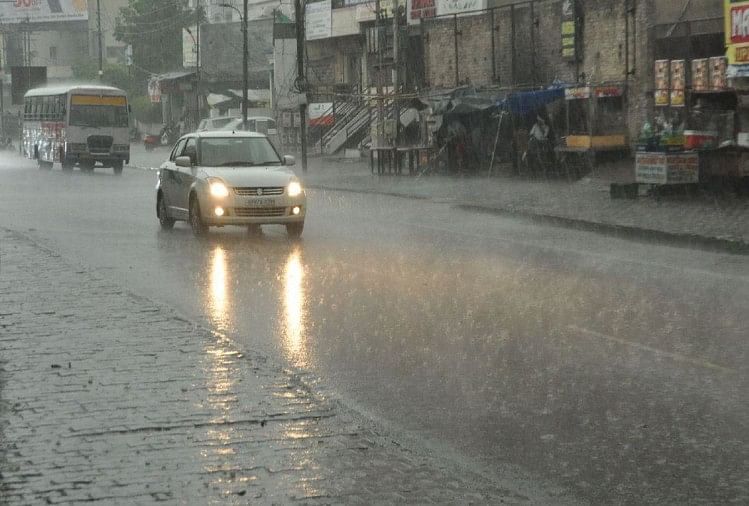 overflowing drains

Baruasagar. In the town Baruasagar, due to heavy rains, life was disturbed. In other areas including Mohalla Indeevar Nagar, Khandi, Nai Basti, Bazar, drains and drains were overflowing. People were imprisoned in their homes throughout the day due to water logging on Station Road. People suffered a lot due to lack of electricity. Mobiles also got discharged. Not only this, several inches of water was flooded in the vegetable market, major markets. Due to which the brightness of the markets was also snatched away.
fallen trees, power system collapsed

Gursarai. Incessant rain in the town for two days caused a severe attack on the electricity, road. At the same time, communication services also collapsed. Most of the towns in the city were waterlogged. Not only this, trees fell on electric wires at many places in village Madori. Due to which the power system collapsed. The employees worked hard throughout the day. In many areas of Gursarai, dirty water entered the houses. At the same time, there is also news of wall collapse of kutcha house at some places.