Updated Wed, 04 Aug 2021 12: 5 IST
Jhansi. On Tuesday, a campaign of vaccination was launched in the district. During this, more than 18 thousand people were given corona vaccine in a single day. During this, crowds of people gathered at the centers to get vaccinated.
A massive campaign was launched on Tuesday to keep maximum population of the district safe from corona virus infection. During this, vaccination was done simultaneously at 185 centers located in urban and rural areas of the district. In this, along with the health department, all the voluntary organizations also ensured their participation.During this, District Magistrate Andra Vamsi told that the Central and State Governments are running vaccination campaigns across the country and the state to save people from corona. A campaign has been launched to expedite the campaign. At the same time, District Immunization Officer Dr. Ravi Shankar said that vaccines were administered at 185 centers of the district. Till late night, 18,169 people were entered on the portal. By morning the exact figure will come out.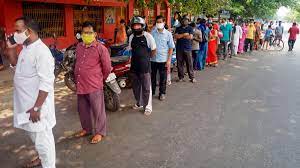 100% vaccination in BHEL township
Jhansi. DM Andra Vamsi informed that 100 percent vaccination has been done in BHEL township. With this, it has become the first township in the district to have 100% vaccination. It may be noted that there are total 782 families residing in BHEL Township. The total population is 3910. All of these characters have been vaccinated.
People are worried about the vaccine here
Jhansi. Even during the campaign of vaccination on Tuesday, people were seen worried about vaccination at many centers. Somewhere, due to lack of vaccine, people had to return disappointed, and somewhere the lock was found hanging at the center.

12.15 pm: Jhokanbagh
Many people had gathered at the center, but there was no availability of vaccine. This angered the people. He said that he has left all his work and has come to get the vaccine. Thought that vaccination would be done easily in the Maha Abhiyan. But, there was a shortage of vaccines even on the special day.