update on Aug 17, 11:45 ist
There are hundreds of small and big rivers in India. Who have an important contribution to the economy including the religion and culture of the country. Usually the rivers originate from the mountains, then at the end they meet in some sea. For example, the Ganges River, which originates from Gangotri in the Himalayas, joins the Ganges Sagar. At the same time, there is such a river in our country, which originates only from the mountains but is not found in any sea. This means that its confluence does not happen with any sea.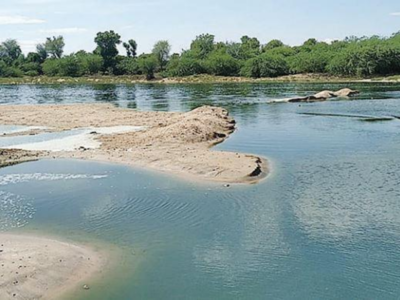 Looney's Trivia
In the Jalore district of Rajasthan, the area downstream of the Luni river is called Neda or Rail. The flow area of ​​Luni is called Godwar region. Mahakavi Kalidas had called the Luni river as the Salila river. Luni river is also known as Sakri river in Pushkar valley of Ajmer. Its major tributaries are Jowai, Sukri and Jojari. Udaipur is the district with maximum number of rivers in Rajasthan. Bikaner and Churu are the only two districts in which not a single river flows.

There is a very special thing about Luni river. From Ajmer to Barmer, the water of this river is sweet, while its water becomes saline as soon as it goes beyond it. The reason for this is that when it passes through the desert of Rajasthan, then the salt particles present in it get mixed with it, then the water becomes saline.
This river, which originates from the peaks of the Aravalli range near Ajmer, is also known as Sagarmati. The river generally moves south-west through the hills to reach the plains of Rajasthan. The name of this river is derived from the Luni Sanskrit word Lavanagiri. Lavanagiri means salty river means river with salt water.

The Luni River originates from Ajmer in Rajasthan and reaches the Kutch area of ​​Gujarat via Stone City Nagaur, Suryanagari Jodhpur, Pali, Barmer, Jalore. There it becomes extinct in the barren Rann of Kutch.
The Luni river originating from Ajmer in Rajasthan is the only river in the country, which does not confluence with any sea. Luni originates from the Nag hills of Aravalli near Ajmer. Flowing in an area of ​​495 km, Luni is the only major river of the region, which reaches Gujarat via Rajasthan. The total length of this river in Rajasthan is 330 km, the rest of it flows in Gujarat.