Update On Aug 12, 11:15 am ist
Jhansi. Animals were cut from three trains in different sections of Jhansi Railway Division on Wednesday. Due to these incidents, the drivers had to stop the train and check it. Due to this the trains got late. Thankfully no untoward incident happened.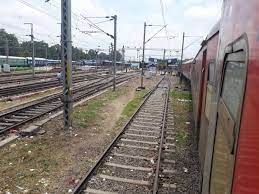 The rail sections from Jhansi to Gwalior, Jhansi to Lalitpur, Jhansi to Orai and Jhansi to Banda have become Danger Zone in the rainy season. The reason for this is the free animals roaming on the tracks here. Due to the absence of barricading around the tracks, the animals come on the track.
On Wednesday, the animal came under the grip of the engine of 01073 Lokmanya Tilak Pratapgarh Express between Bijauli and Khajraha stations. Due to this the train was delayed by 10 minutes. Similarly, Prayagraj Jhansi Passenger near Ohan station and Durg Kanpur Express between Khurand to Dingwai station got delayed due to animal bite.
Every day five to ten animals are losing their lives due to engine failure. Even on Tuesday, six trains were delayed due to animal bites. There is always a fear of accident due to these incidents.
Train delayed due to breaking of OHE wireJhansi. Five OHE wires broke on Wednesday morning on the railway line going towards Bhind via Virla Nagar station of Gwalior section. On information, the workers reached the spot with the tower wagon. After about one and a half hours the OHE line became operational. A goods train got delayed due to the incident.
mobile thief caught
Jhansi. GRP caught two mobile thieves roaming in suspicious condition at the railway station. One stolen mobile each was recovered from them. The names of the accused are Priyansh Kushwaha, Chile resident of Dakor police station area of ​​Jalaun and Sunil Khan, resident of Bhatpura of Utila police station area of ​​Gwalior. The GRP has registered a report against the accused.