Update on Aug 12, 11:20 am ist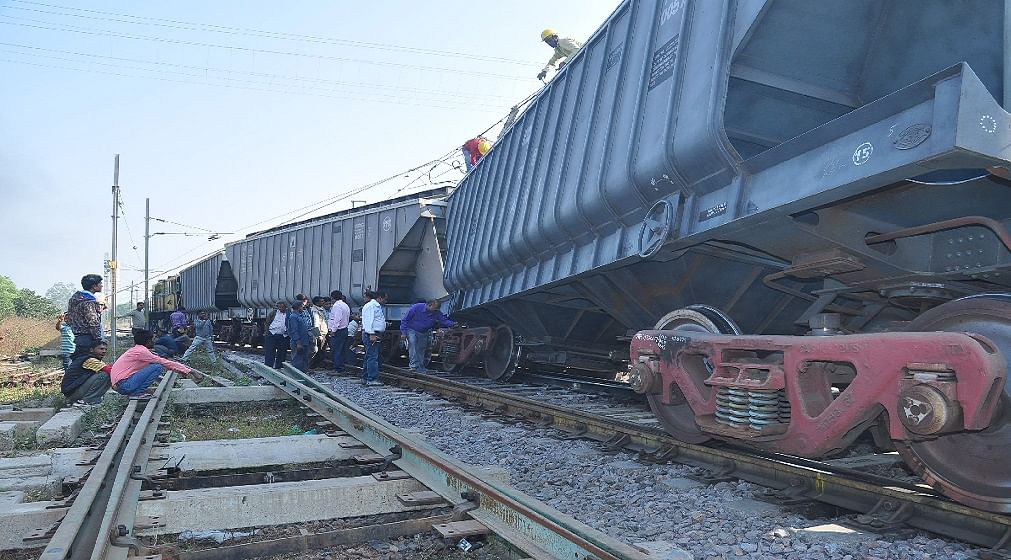 Jhansi. A wheel of a container special goods train derailed while entering the yard at the railway station on Wednesday night. The track was damaged in many places due to the rubbing of the wheel. The situation was normalized after about two and a half hours. Due to this incident, three trains of the down track got delayed. During the repair work, many officers including Additional Divisional Railway Manager Amit Sengar were present on the spot.
On Wednesday night, Tughlakabad container special goods train came to Jhansi from Katni via Banda. When the goods train was entering the yard from the line next to platform five, a wheel of container number 36 (CXNU 190686) derailed from the engine.The wheel started rubbing from the point ten meters before the derailment, causing damage to the track at different places. Platform number four and five got blocked. There was a stir in the railway administration. Officers, supervisors of engineering, operations and related departments reached the spot.

durghatana raahat gaadee ko pletaphaarm chaar par laakar marammat saamagree ko utaara gaya. karmachaariyon ne pahiye ko pataree par rakhane ka kaam shuroo kiya, jo raat 10.30 baje poora ho saka. vaheen, pletaphaarm paanch se sabase pahale ek paarsal speshal tren ko gujaara gaya. isake baad daun traik kee savaaree gaadiyon ko pletaphaarm par laane ka silasila shuroo kiya gaya. 

download amar ujal app for braiaking naiws in hindi & livai updatais. https://www.amarujal.chom/chhannails/downloads?tm_sourchai=taixt_sharai
The repair material was unloaded by bringing the accident relief train on platform 4. The workers started the work of putting the wheel on the track, which was completed at 10.30 pm. At the same time, a parcel special train was passed through platform five first. After this, the process of bringing down track passenger trains on the platform was started.After the situation returned to normal, the supervisors prepared a joint report of the accident. Due to the accident, Patal Kot, Southern Express, Malwa Express going from Jhansi to Gwalior got delayed by half an hour. This caused inconvenience to the passengers.
read this also...