UPDATE ON AUG 19, 11:15 AM IST
Jhansi. 'I am hungry and helpless with disease, someone help me, get me admitted to the hospital, at least in the government hospital I will get bread for two times...' An elderly woman lying on the road near the polytechnic came- This is what is pleading with the people going. The woman, who has been battling oral cancer for almost a year, is crying on the street in the heat and scorching sun.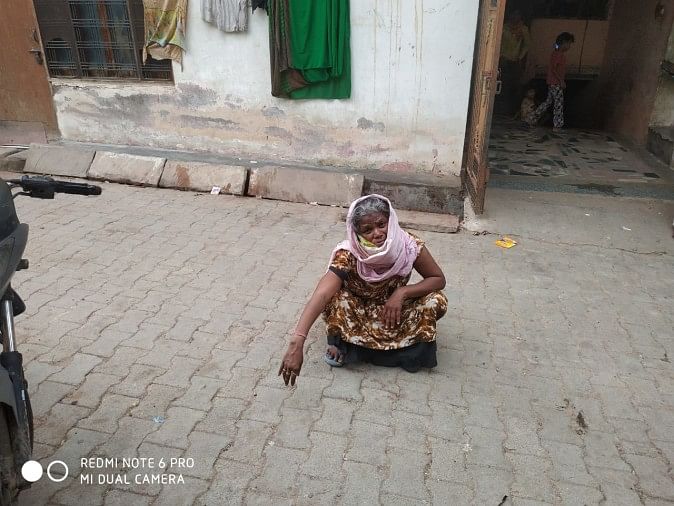 Anita, a 50-year-old woman, has been pleading for help from people since Tuesday on the road of Ramdas Girls Hostel near Polytechnic Ganesh intersection. The woman says that she was living on rent in a house on this road.After the death of her husband, during the lockdown in the year 2019-2020, she worked as a cook in a house in Bhopal. After leaving work, returned to Jhansi. After this, people started doing chowk-pots in their homes and the money they got was used to pay the rent of the house and its food and drink.

A few months ago it was found that he had been diagnosed with oral cancer. The woman told that as long as she had work, she kept on getting her medicine done. Due to illness and lockdown, he did not get any work for three-four months. She was also able to pay the rent of the house. Due to this she had to leave the house and she came on the road. Now he has even to eat. The crying woman tells that the size of the cancer is increasing and it is coming outside the mouth.When the unbearable pain becomes life-threatening, she tightly ties a cloth over the mouth so that the tingling of the pain subsides. On the other hand, some people around are helping him by giving him food, milk and tea. The woman pleaded to get him admitted to the hospital.One son who went to Mumbai refused to come, the other unemployed
The woman has two sons. The elder son works in Mumbai, but even after calling, he refused to come. At the same time, the second son of the woman, Shobhit, is unemployed, her household is also in trouble. Shobhit told that he used to work as a confectioner. Lost work in lockdown. Since then he is unemployed, unable to take care of his mother. It was also becoming difficult to pay the rent of the house.