update on Aug 17, 11:11 am ist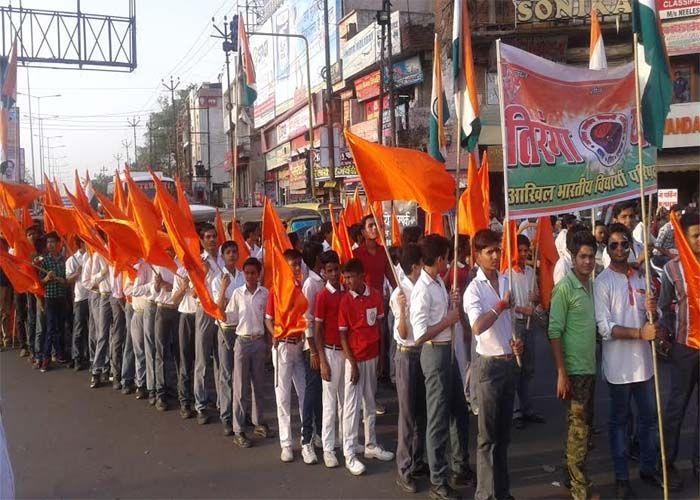 Jhansi. On Sunday, the festival of independence of the country was celebrated with great pomp in the metropolis. The city became drenched with the flags of freedom in the tricolor yatra that took place in many places in the city.


On Independence Day, every nook and corner of the city was seen painted in the colors of the tricolor and the slogan 'Bharat ki Jai' was heard from all sides. Patriotic songs were reverberating everywhere. Flag hoisting took place in government and non-government institutions with aan, ban, pride. On this occasion, people reiterated their resolve to keep freedom intact. Tricolor yatras were taken out from place to place. The echoes of patriotic songs were heard throughout the day.
Cultural events filled with patriotism were organized. There was great enthusiasm among all the children and elders.
Salute to the tricolor by hoisting the flag
Dr. Ajay Shankar Pandey hoisted the flag on the Independence Day of the Divisional Commissioner. District Magistrate Andra Vamsi first hoisted the flag on the turret of the Collectorate and Rani Fort. On this occasion, he said that all of us should take a pledge to discharge our responsibility sincerely in the interest of the country.
In the Reserve Police Line, Senior Superintendent of Police Shivhari Meena saluted the tricolor by hoisting the flag. On this occasion, praising the police personnel who diligently discharge their official duties, he presented them with a citation. At the same time, CDO Shailesh Kumar hoisted the flag at Vikas Bhavan.
Unit Head Arun B Gupta at BHEL unfurled the flag. On this occasion, BHEL security guards performed march past and saluted the flag.During this, the unit chief said that for the all-round development of the country, all citizens have to run shoulder to shoulder. On this occasion, General Manager Muktikant Khare, Pravish Varshney, Pradeep Rawat, KD Manjhi, BHEL Women Welfare Committee President Rupali Gupta were present.
Vice Chancellor Dr. Arvind Kumar hoisted the flag at Rani Laxmibai Central Agricultural University. On this occasion, scientists Dr. Devil Chella Bhaskar, Dr. Meenakshi Arya, Surbhi Bajpayee along with Riddhi, Siddhi, Ashlesha, Anvesha etc. presented cultural programs. On this occasion, Dr. Amresh Chandra, Director of IGFRI, Dr. AR Sharma, Dr. SS Singh, Dr. Anil Kumar etc. were present. Conducted by Dr. Prabhat Tiwari