Update On aug 13, 04:31 pm ist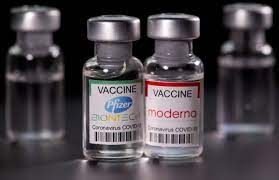 The US Food and Drug Administration (US FDA) has approved the emergency use of the third dose of Moderna and Pfizer vaccines.
Washington: The third wave of Coronavirus has started in many countries of the world. America is one of those countries where this deadly virus has caused the most destruction. Now America has taken an important decision to protect its citizens from the dreaded corona virus. America has approved the third dose of Corona Vaccine i.e. Booster Dose for people with weak immunity.
Booster dose will be given to these people
Anthony Fauci, the top US expert on infectious diseases, has said that at present this booster dose will be available only to people with weak immune systems, but soon there will come a time when everyone will need it.
USFDA approved
The USFDA has approved the third injection of Pfizer-BioNTech and Moderna vaccines for emergency use. FDA Commissioner Janet Woodcock said in a statement, 'Another wave of corona has taken entry in the country. The FDA is concerned that people with a weakened immune system are at higher risk of this dangerous disease.
According to the USFDA, the booster dose of the corona vaccine is for people with a weak immune system or organ transplant.