update on Aug 16, 12:53 pm ist
With the capture of Kabul, after 20 years, the Taliban again ruled in Afghanistan and due to the withdrawal of the Taliban, people want to get out of there in any situation after the situation of tragedy in Kabul including Kabul.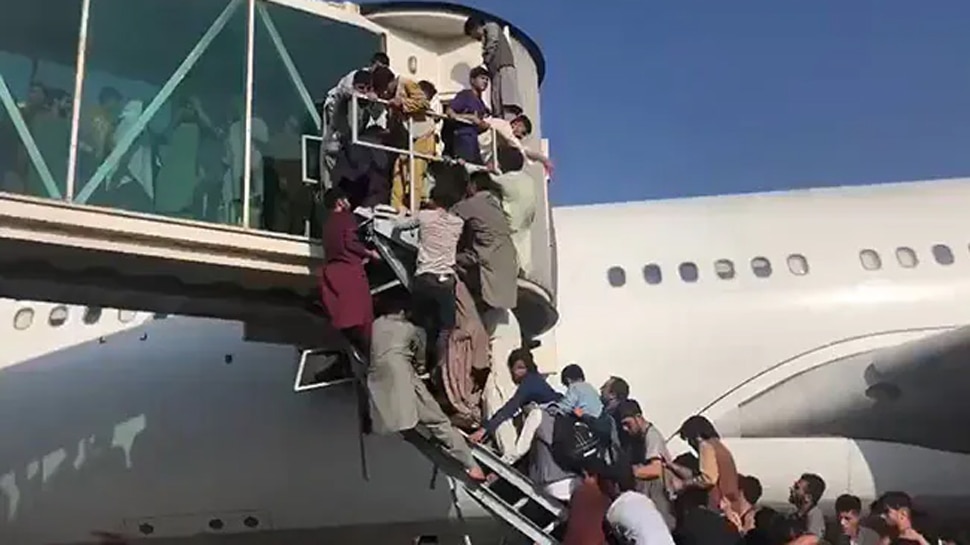 Kabul: The situation in the capital Kabul has worsened between the Taliban occupation of Afghanistan and the kneeling of President Ashraf Ghani's regime. Very frightening pictures and videos of Kabul Airport have come out, which are going viral on social media. Due to the worsening of the situation, people are migrating from Afghanistan and the situation at the airport has deteriorated so much that there was no place to set foot.
people want to leave anyway
What the whole world was afraid of for many days about Afghanistan, that fear finally proved to be true on Sunday. With the capture of Kabul, after 20 years, the Taliban again ruled in Afghanistan. Due to Taliban Returns, there is a state of panic in the whole of Afghanistan including Kabul and people want to leave there in any situation.
people climbing on top of each other
The Taliban is assuring that the diplomats present in Kabul need not fear, but how the Taliban's terror dominates the hearts and minds of the people, its hallmark was seen at Kabul's International Airport. There was an atmosphere of chaos at Kabul International Airport and this crowd present at the airport looked restless to board the flight in any way to leave Afghanistan as soon as possible.At the same time, NATO countries have decided that all commercial flights over Kabul will be suspended and Kabul Airport will now be used only for military.
This will be the new name of Afghanistan
Taliban terrorists have entered Rashtrapati Bhavan and armed Taliban terrorists have occupied the Rashtrapati Bhavan of Afghanistan. The Taliban has claimed that it has not only controlled 11 districts of Kabul,
Rather, the control of Afghanistan is also in his hands now. That is why the Taliban have said to announce their rule in Afghanistan soon and have also announced that the new name of Afghanistan will now be 'Islamic Emirate of Afghanistan'.
Air India plane took a U-turn
Air India flight AI126 coming from Chicago to Delhi made a sudden U-turn shortly after entering Afghan airspace over Mazar-e-Sharif. The plane is currently in Turkmenistan airspace. The reason for this has not yet been officially revealed, but there is speculation that security concerns over Afghan airspace forced the Indian aircraft to divert.