Updated Wed, 04 Aug 2021 12 : 59 pm IST
In a very short span of time, Sara Ali Khan, the daughter of Nawab family, has made her a different identity and special place in the film world. Sara Ali Khan started her career with the film 'Kedarnath' in the year 2018.This film could not show anything special at the box office, but Sara definitely managed to make her place in the hearts of the people. Like films, Sara is very active on social media and she does not miss to entertain the audience there with her jokes and unique style. Once again Sara has come into the limelight.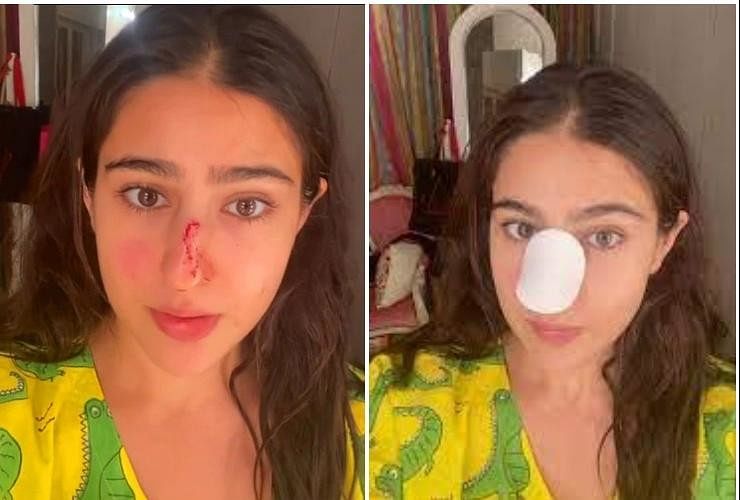 Actually, recently Sara has shared a video. Along with the video, Sara has also apologized to her parents i.e. Saif Ali Khan and Amrita Singh. Not only this, Sara even said that I cut my nose. What is this whole matter? Let's know, after all, what has Sara done that she has to apologize to her parents.

Watch This Video Click The Link….,..
https://www.instagram.com/p/CSHBrBTj1dS/?utm_source=ig_web_copy_link
Let me tell you, in the video shared by Sara Ali Khan, her nose is seen hurt. Sharing the video, Sara wrote, 'Sorry Amma, Abba and Iggy. I cut my nose. Fans are really surprised to see this video of Sara and the strange caption written with it. By cutting her nose, Sarah meant that her nose was hurt. This thing has been told by Kosara in her own funny way.
In the video you can see that Sara has first covered her nose and after a few seconds when she removes the cotton placed on her nose, it is seen that her nose is hurt. Due to which a lot of blood is also bleeding. This video of Sara is funny but some fans have also expressed concern for her.