uPDATE ON aUG 9, 01:30 PM IST
Nora Fatehi often shares her bold pictures on social media. Due to his bold style, there is a lot of discussion on his social media. Recently, Nora was seen in an animal print outfit, these pictures of her went viral very fast on social media. At the same time, Nora Fatehi has shared some of her pictures in a beige chikankari saree on her official Instagram account. She is looking very gorgeous and beautiful in these pictures.Many people are praising this beauty of Nora fiercely. Famous as the dancing queen, Nora Fatehi is now leaving a mark of her talent in Bollywood as well. You can guess the popularity of Nora from the fact that she has more than 30.4 million followers on her Instagram account. In this episode, let's see the pictures of this traditional look of Nora Fatehi -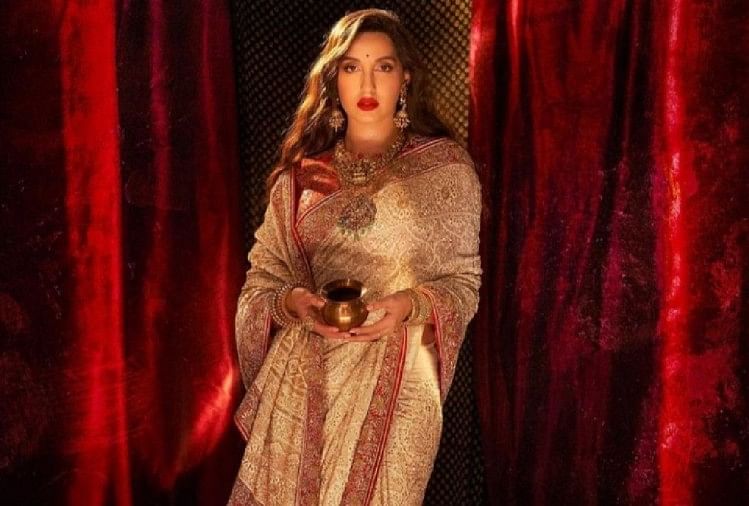 Usually Nora Fatehi is seen in western dressage. At the same time, people are very fond of this new Indian traditional look. In the pictures you can see that Nora is carrying a beige chikankari saree. This chikankari saree is hand embroidered. Nora is looking very beautiful in this saree.

Apart from this, the border of the saree has been given red color, which is giving it a perfect look. Nora is wearing a maroon color blouse with this saree. At the same time, she has also carried an oxidized necklace of golden color to add charm to her look.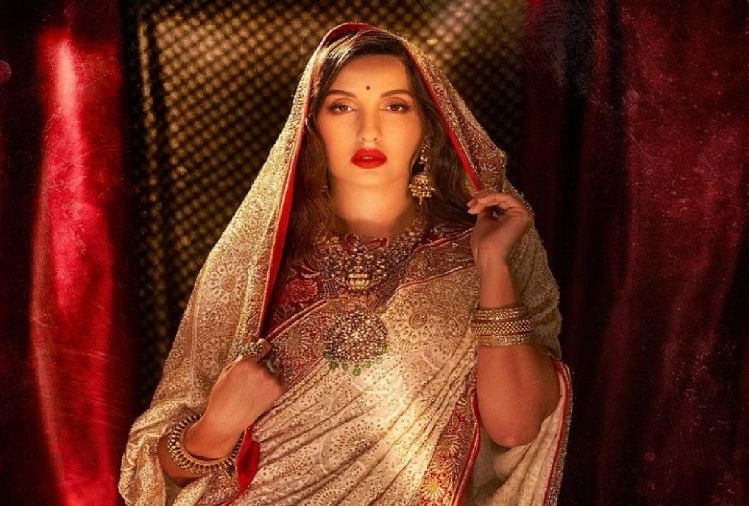 A floral pattern of white and green stone is also given in this necklace. Nora is wearing matching colored jhumkas, silver hand cuffs, red dot and ring in her hands. For your information, let us tell you that the jewelery that Nora is wearing has been designed by Apala-Sumit and Anmol.
Nora has kept red lipstick during this time. Her beige chikankari saree has been designed by Indian fashion designer Anjul Bhandari. Pictures of Nora Fatehi's traditional look are becoming increasingly viral on social media. Fans are not tired of praising his look. Many loving reactions are coming in the comment box.