Update on Aug 3 12: 25 pm ist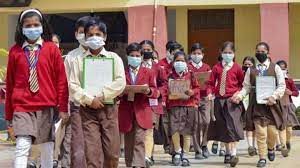 UP School Reopen: Schools will open in UP from August 16, only 50% students will be able to attend
The UP government has ordered to open all schools with half capacity from August 16 and also said that preparations should be made to start education in higher educational institutions from September 1 in every case.

All the schools of the Secondary Education Department in the state will be opened from August 15. Classes will be started in schools from August 16 with half the capacity. At the same time, the process of admission to undergraduate level classes in colleges and universities will be started from August 5. Classes will be started from September 1 in all higher educational institutions. This decision was taken in the meeting of Team 9 held at Lok Bhavan under the chairmanship of Chief Minister Yogi Adityanath on Monday.

The Chief Minister has given instructions to make preparations to start the new session 2021-22 in all educational institutions in view of controlling the corona infection at present. The Chief Minister said that the students who have been promoted in secondary educational institutions were also instructed to start the process of admission to the next class.He has instructed to start the classes of these students from the date of Independence Day. He has given instructions to organize 'Amrit Mahotsav of Freedom' in schools on the day of Independence Day and start reading lessons with half capacity from 16th August.
The Chief Minister said that the results of high school and intermediate of all the boards have been declared. He directed to start the admission process for the graduation level from August 5. Instructions have been given to start studies in higher educational institutions from September 1 in any case.He directed to conduct education in educational institutions under the Kovid protocol, to arrange for sanitizers, infrared thermometers, masks in educational institutions and to organize special camps for vaccination of students above 18 years of age.
Council schools can open soon
However, the state government has not yet announced the date of opening of council schools. But in the team-9 meeting held on Monday, the Chief Minister gave instructions for cleanliness, sanitization, cleaning of toilets and keeping classrooms clean in all council schools. After the instructions of the Chief Minister, there has been a signal to open the council schools soon.